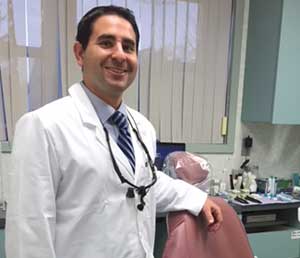 Dr. Lee Gherman is a general dentist, proficient in many aspects of dentistry including restorative treatment, endodontics and cosmetic dentistry. He received his Bachelor of Science degree from Lander College where he graduated with honors. While in Landers, he did extensive summer research programs including an oral cancer research project. Dr. Gherman continued doing research while in New York University College of Dentistry, where he graduated from in 2010 with honors in pediatric dentistry as well as completing the senior elective courses in implant dentistry. He went on to complete a general practice residency at New York Hospital Queens where he had extensive training in endodontics, oral surgery and emergency dentistry.
Dr. Gherman is a member of a number of dental study clubs and stays up to date with the latest in continuing education and dental technology.
Dr Gherman is married and has 3 children, and enjoys spending time with his family, going running and hiking. His children are active in West Hempstead PAL Hockey and has many friends and family who live in the community.
Dr. Gherman prides himself on treating every patient the way he would like to be treated himself and ensures a calm and comfortable environment in the dental office.