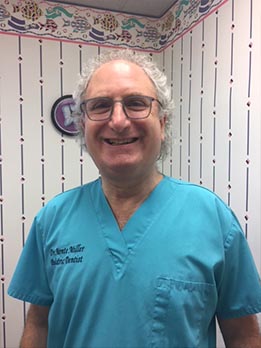 Dr. Miller is a specialist in Pediatric Dentistry. He received his Bachelor of Science degree from the University of Wisconsin at Madison and graduated with Honors and Distinction. He went on to do graduate research work as a Fellow in Human Oncology at McArdle Laboratory. Then, he completed his dental training at Tufts University School of Dental Medicine and graduated magna cum laude. He continued his postdoctoral training in Pediatric Dentistry at Beth Israel Medical Center in New York City and received his Certificate of Pediatric Dentistry upon completion of a two year residency program.
Dr. Miller has been on staff at Long Island Jewish Medical Center, Stony Brook, Beth Israel Medical Center, and currently at Mount Sinai Medical Center, and Queens Hospital Center, where he is department head of pediatric dentistry. He has been an attending and in private practice for over 35 years.
Dr. Miller is a member of the American Academy of Pediatric Dentistry, the American Dental Association and the Tenth District Dental Society. To remain in touch with the latest technologies and philosophies, he is also a member of a study club and continuously attends seminars and lectures regarding various aspects of dentistry.
Dr Miller has lived in Great Neck for 35 years and is the proud father of four wonderful children, Rachel, Rebecca, David, Jeremy, and two delightful stepchildren – Hilana and Ariana. He also has two amazing grandchildren, Madison and Benjamin.
"I feel fortunate that I have been blessed with a gift of making children smile inside and outside. Creating beautiful and healthy smiles improves the quality of life for these children. I love showing my patients that going to the dentist can be loads of fun! I am so happy that I chose this profession, because I believe that every child should get a chance to experience a healthy and beautiful smile. Thank you to all the parents that have entrusted me with taking care of their children."